Brisbane CBD is all but abandoned. Previously manned police outposts have packed up and left. Albert Street is currently under a foot of water.
The ferry stop ramp is completely submerged: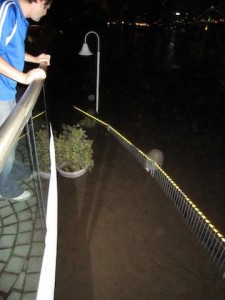 And the Jade Buddha carpark ain't going to be taking traffic anytime soon:

Meanwhile water is starting to flow out of the drains at Albert St, if that goes under completely we'll be surrounded by water:

Latest photo, levels don't appear to have increased again but that has to be put in the context that the tides actually going out and the water isn't going down. Tonight will be very interesting indeed.
So, I'll start this off, I'm currently in the middle of the Brisbane CBD monitoring one of the many datacentres located within the city. We're on the 21st floor of a non-inundated (yet anyway) building but water is starting to lap all around us. The Brisbane river is starting to break into Eagle St while the storm water drains at Albert Street are starting to push water out. We're lucky, we've got 24hrs of fuel loaded into the generator and at least another 48hrs of fuel stock piled here so the facility shouldn't be affected. We'll be isolated though so I'll try to continue to provide updates.
For now, here's a photo of the water as it stands as of an hour ago: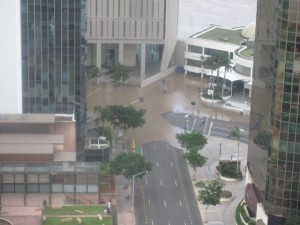 So, Cloud Central is running a public beta at the moment so I grabbed an account and decided to do some tests.
Cross copying from the wiki page I created on their site:
Initial impressions
– Nice GUI
– Xen based virtual machines
– Asked for a Nano which has 16GB of storage but it was only provisioned with 1GB. Suspect the idea is that additional allocations are made on demand.
Bugs/Showstoppers:
– Resizing the console on Firefox 3.5 on Ubuntu causes a complete X11 crash. That's a serious worry.
– Was never told my default root password had to trigger a reset. Maybe that's intentional.
– Password reset seems a bit slow/buggy, it works, eventually but there's no 'spinner' saying it's doing much other than 'Loading'.
Storage
Doing stock performance benchmarking using iozone on a Nano product.
iozone -azcR -i 0 -i 1 -i 2 -i 8 -n 256 -g 524288 -f /512MB-1Thread -b /512MB-1Thread.xls > /512MB-1Thread.log
– IO looks slow, during the test load went to 4 (~100% iirc) on a Quad Core AMD 64bit CPU.
– I couldn't do a 512MB test since it apparently ran out of space. My space still hasn't been freed.
Working just with the 256MB outputs.

Log output here: 512mb-1thread
Network
Network looks quite nice from initial impressions. PipeNetworks peering in Sydney and managed to pull 8-10Mbit from an uncontended source at work. Consistent throughout.
Conclusions
– Xen isn't really 'elastic' cloud it's more 'resource on demand'.
– Network seems to be nice
– Storage performance ain't that great
Will modify this post as more points come up.
Trevor Rose has written a nice piece on VC's, Inventors & the business issues faced when taking an idea or invention into a product.
The timing on this article is surreal since I myself am facing what I'd call 'inventive hurdles' whereby I have to try and figure out the business/financial distribution of something I just want to get to a releasable product. In the most part I agree with Rose perhaps a little bit too boisterous for my liking but hey, that's what makes it such a snappy article so maybe that was the point.
« Previous Page
—
Next Page »