"I've bought a Cobalt RaQ server and I need someone to look after it"
That was the first conversation I had with Gary Meadows. I was 14 and Gary & Marita (his lifetime partner) had been running a small business called Aussiehosts off a reseller account for the past year. After selling dialup accounts & web design services (EDIT Group) their small dabble had grown faster than they had expected and now Gary was 'going big' with a single 300Mhz 1RU box colo'd out of a U.S. Datacentre.
What follows is an attempt at a historical & humorous account of a good friend, a great guy and 'the guy' that helped me find the career path I'll now probably do for the rest of my life.
By Christmas School Holidays 1999-2000 we'd agreed I was going to start spending more time at the businesses salubrious head office (aka the family garage) in Kalangur, Queensland but first my mother had some questions for Gary when he arrived on a hot humid day in Gladstone, QLD:
"He's not going to be working on those pornographic websites is he?" said my mother (an English teacher of 20 years but not quite up with this internet thingamajig)
"No Carole we're a legitimate hosting business" said Gary
"And he's mentioned you're willing to pay him?" she said with an element of disbelief (at that time I'd had a checkered history with the important things of real 'school work')
"Yes, I'll pay him and put him up at our place" he replied
"Oh, I hope you're charging him rent" she said
"Yes Carole, that's factored in" he said (it wasn't actually but a white lie was worth the hassle :))
"Ok, well, make sure he does some house work and if he misbehaves send him home on the train because he's already taken too much of your time and you shouldn't have to put up with any rubbish from him"
"I'm sure it will be fine" he said re-assuredly
By 2001 the RaQ was straining. We'd loaded 500 sites onto it and while customers were still happy I was playing wackamole 24/7 with rogue processes and yet the signups kept coming. From his home office Gary & Marita (who somehow tolerated a teenager house squatting in her house for quite a few school holidays!) would work tirelessly on all things support & administration. Even at 15 I was stunned by the hours he did, every day, 5:30am wake up working until midnight – 1am. 7 days a week, 365 days a year although Christmas cheer sometimes made it into his ticket responses too!
By 2003 we were up to 10 servers in the states sporting over 4000 domains, we'd converted to Plesk (version 2.0!) as our hosting platform of choice (despite the tide of Cpanel hosts our customers still liked Plesk more and so did I). At this time Gary & Reeta decided we'd go back into Australian based hosting (bandwidth had come down in price and a new kid on the block by the name of HostingShop was offering dedicated servers) but not before they managed to take a holiday in Fiji while I held the fort over Christmas (despite some issues with a supplier). By 2005 Aussiehosts had grown to a full rack of servers in Australia and some 20 or so servers in the States. From memory we were hosting over 15,000 websites when Gary & Marita decided to sell up to Mcgoohq (now known as Uber).
While I didn't follow the business to Canberra (I myself decided to move onto different sectors of the I.T. market) I think all of us were proud of what we'd achieved.
So why the story? Well I guess the primary reason is to reinforce what Gary Meadows gave me. He gave me an opportunity to take my interest in computing and turn it into a career path. He provided me an 'out' when I was fast heading down a path of little achievement. He taught me how to run a business and the importance of keeping customers happy. He taught me how to inspire confidence in ones business and show commitment to ones customers. For me, these are critical and important lessons that I doubt I would have had the opportunity to learn and for that I'll be forever indebted.
Finally, he taught me many non business related lessons like the fact I really don't like country music (years and years of Kenny Rogers, one of his favourites, kinda convinced me of that), that there is only so many Christmas carols (Dec 1 -> Jan 1 equaled 24/7 Christmas carols in the Meadows household!), that it's better to live life to the full and go out doing what you love (which he proved all the way to the end).
To a great mentor, a great mate and a bloody good bloke, Gary Meadows, Rest in Peace, you WILL be missed.
To Marita & the kids, the three of you were and still are his proudest achievements, my thoughts are with you all.

Stuart
Post Note 1: The dates in this are running on memory, they might not be accurate but the story remains the same.
Post Note 2: I still have the RaQ 550, after we migrated off it Gary had it delivered to the office and gave it to me on my 16th Birthday. It's now over a decade old yet I keep it for nostalgia because you always have to remember 'where you came from'.
No, I will not pay $45 to renew a domain. I found it interesting that this came with an Australian postal address which is (for the Google bait: 189 Queen Street, Suite 209, Melbourne) a bit interesting given that this registrar is trying to take my legitimately held (and nowhere near due) domain from my chosen provider and then charge me 4x what I can get from a reputable provider. No thanks Domain Renewal Group.
Brisbane CBD is all but abandoned. Previously manned police outposts have packed up and left. Albert Street is currently under a foot of water.
The ferry stop ramp is completely submerged: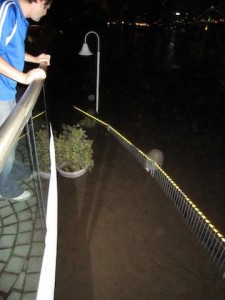 And the Jade Buddha carpark ain't going to be taking traffic anytime soon:

Meanwhile water is starting to flow out of the drains at Albert St, if that goes under completely we'll be surrounded by water:

Latest photo, levels don't appear to have increased again but that has to be put in the context that the tides actually going out and the water isn't going down. Tonight will be very interesting indeed.
So, I'll start this off, I'm currently in the middle of the Brisbane CBD monitoring one of the many datacentres located within the city. We're on the 21st floor of a non-inundated (yet anyway) building but water is starting to lap all around us. The Brisbane river is starting to break into Eagle St while the storm water drains at Albert Street are starting to push water out. We're lucky, we've got 24hrs of fuel loaded into the generator and at least another 48hrs of fuel stock piled here so the facility shouldn't be affected. We'll be isolated though so I'll try to continue to provide updates.
For now, here's a photo of the water as it stands as of an hour ago: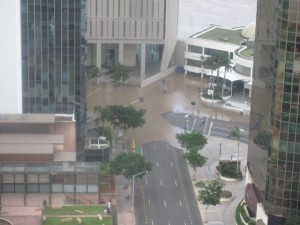 Next Page »