Brisbane CBD is all but abandoned. Previously manned police outposts have packed up and left. Albert Street is currently under a foot of water.
The ferry stop ramp is completely submerged: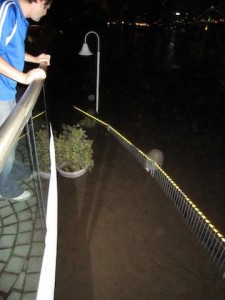 And the Jade Buddha carpark ain't going to be taking traffic anytime soon:

Meanwhile water is starting to flow out of the drains at Albert St, if that goes under completely we'll be surrounded by water:

Sorry, the comment form is closed at this time.
---
Read more
« Flood Levels unchanged @ 6pm Jan 12 2011
LOL, Domain Renewal »